A word of warning: There are a number of Facebook, Twitter, Tumblr and Skype accounts out there that are FAKE. Some of these apparently try to scam money out of visitors. If you are texting with someone claiming to be Brent who is asking for money, you can be sure you're dealing with a scammer. Please let us know about such attempts so that we can warn everyone. The correct links to Brent's accounts are on the Homepage of this site and on his Blog.

---

Sunday, April 17, 20018
This is the video I shot using my cell phone and selfie-stick a few minutes after I damaged my laptop just before my first webcam show from the Turks & Caicos Islands. I still haven't managed to get my laptop repaired here on our little island, but I'm hoping to find a solution soon so I can have a live webcam show from here as quickly as possible.
I'm expecting a friend of mine to fly here in a couple of weeks; we'll be shooting a few videos together for the website. It's a surprise, so I won't reveal his name just yet, lol.
Cheers,
- Brent

Wednesday, April 11, 2018
The evening before I flew to the Turks & Caicos Islands, I visited the public gym I usually go to in Calgary to work out. I used my cell phone to shoot a little video in the shower afterwards. It had to be quiet and short, but still... Check it out!
Cheers,
- Brent

Sunday, April 8, 2018
Unfortunately, I've had to cancel today's show because just a minute before the show was to start I jumped up on my bed and my almost new laptop fell to the floor and the screen was damaged! GRRRR!!!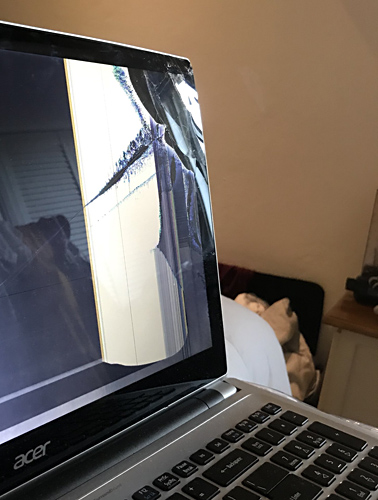 So sorry, everyone. I hope I can get it fixed quickly here on the Island.
- Brent

Thursday, April 5, 2018
In this edited skype video I partnered with a fan that has a humongous dick. Unfortunately, I can't share it with you, lol. But you can see the effect it had on me... in "Skyping with (Big) Dick".
I just arrived in the Turks & Caicos Islands yesterday, and later on today I hope to be testing the quality of the internet here now (post-hurricanes). So, keep your fingers crossed that everything works out for Sunday's live webcam show.
Cheers,
- Brent

Thursday, March 29, 2018
"Things that can happen in the dark...". I discovered this video and some others that aren't on the site yet when I dug through my hard drives when I had my computer fixed. This one wasn't originally meant for the site, so the lighting isn't very good (hence the title). But it's HOT, a reminder of a hot night with a friend. Check it out.
I'm heading for the Turks and Caicos Islands next week, so I'm hoping to do a live webcam show from there very soon.
Happy Easter,
- Brent

Tuesday, February 27, 2018
"We Need To Meet One Day" is what I said to the hottie who was my partner online in today's Skype show video. That's why I like these shows, because you can see your "partner", if he's open to participate on his device or computer. I'm about to get a new computer, so I hope to do more live webcams and shoot more videos soon. Please be patient a while longer.
Cheers,
- Brent

Friday, February 16, 2018
So this time I used the bathroom to do a Skype show with a fan from Washington, DC. Fortunately, mine is big enough to let me do that reasonably comfortably what with all the hard, awkward surfaces you have to deal with. But, it wasn't my first time doing sexual things in a bathroom and I bet it isn't your first time either... ;-)
Cheers,
- Brent

Thursday, February 8, 2018
It was freezing cold here when I did my Skyping with T-Man. Fortunately it was only cold outside, but it brought some friends into the condo at the same time, so I had to be a bit quieter than usual. But it didn't stop me from enjoying myself. :-P
Cheers,
- Brent

Sunday, January 28, 2018
Me and my Fleshjack is today's new video, a Skype show with a fan from Washington, DC, one of my favourite American cities (even now, haha). We were able to chat a little before getting down to the more exciting stuff. This time I used my Fleshjack (my own, as you'll see, but don't read anything into that, lol). It made things extra hot though.
Cheers,
- Brent

Monday, January 15, 2018
Today's new video is an edited version of a Skype show I did with a fan from Nebraska. It was freezing cold outside in both places, but we managed to heat things up between ourselves. I haven't been around much in the last little while. I apologize for that but I'm feeling much better and hope I can get my computer working again as well. See you soon...
Cheers,
- Brent

Thursday, January 4, 2018
Got a new edited webcam video for you to start 2018 off right. It's called A Post-Thanksgiving Webcam because that's when it took place, lol. It's one of several videos that are still being edited and will be added to the website soon. And I hope to be able to start having live webcam shows again soon, just waiting for some repairs to my computer. (I really shouldn't be allowed near computers or cell phones, that what I keep getting told anyway, ha ha.)
Happy New Year!
- Brent

Tuesday, December 26, 2017
Here's a little post-Christmas surprise for you - Skyping with Australia. As I was preparing this, it struck me that Australia is almost half-way around the world from me and a day ahead. And we had very good two-way video during the session. How far have we come technically since my first live webcam shows back in 2005! Too bad politicians all around the world insist on going backwards...
I wish you all a happy and safe 2018!
- Brent

Friday, December 15, 2017
Today's edited webcam video is called "ON A FRIEND'S COUCH" because that's where I was when you visited with me (those of you who were there last month, lol). The weather was/is crummy in Calgary, you'd think I was used to it by now. After all, I'm originally a prairie boy. But with my parents and brother now living in the Turks & Caicos Islands, I like to think of myself as Caribbean. Well, we can all dream, right? I don't think I can squeeze in another live webcam show before Christmas, so the next one may well be from there... I'll let you know as soon as I know for sure. ;-)
Cheers,
- Brent

Thursday, December 7, 2017
Brent made today's Skype video on Thanksgiving Day, American Thanksgiving Day, that is. Canadian Thanksgiving (like Thanksgiving in some European countries) is at the beginning of October, because it's really a harvest festival. One of the advantages of celebrating it earlier is that you don't have to eat turkey again for another three months, lol. As he says during the show, Brent likes these 1-on-1 occasions because he can talk with one person the whole time which makes it a bit more intimate. Take a look.
All the best,
George
Member Services

Wednesday, November 29, 2017
Today's new video is of me doing a webcam show in the bathtiub. It's the first time I've done one of these in quite some time. I really enjoyed it. It's sooo comfortable in the warm sudsy water. Cum join me, why don't you?
Cheers,
- Brent

Wednesday, November 22, 2017
Here's a new webcam video for you - WITH MY FLESHJACK IN THE CLOSET. I realized I hadn't used my Fleshjack during a webcam show in quite a while, so here it is. Please forgive the few minutes near the beginning and at the end that aren't in high definition video. My camera had only about 15 minutes worth of room left on its drive, so we used a bit of captured video to record me while I was talking with you. Live and learn... ;-) If you're interested in checking out my Fleshjack, click here to visit my page on the Fleshjack website.
Watch out for another new video in a few days and visit with me on Sunday at the live webcam show.
Cheers,
- Brent

Friday, November 17, 2017
Finally! I have a new video for you today, and there are more videos on the way during the next few weeks. I'm shooting a video today with a new performer, maybe more than one if things work out. ;-) My problems during the past few weeks are hopefully resolved for good. Last week's live webcam show should be ready for the site soon. And, don't forget, if you can make it, come to this Sunday's live webcam show at 5 pm Pacific / 8 pm Eastern.
Cheers,
- Brent

Tuesday, November 7, 2017
Hello everyone, I'm back! I apologize for the long absence, but I'm hoping to make up for it . I'll be doing a LIVE WEBCAM SHOW this Sunday at 8 pm Eastern / 5 pm Pacific. I'm planning to have a live webcam show every Sunday from now on.
I hope you can make it.
Cheers,
- Brent

Thursday, September 21, 2017
Starting in about mid-October, Brent has decided to have regular twice-weekly live webcam shows every Sunday (and perhaps) Wednesday at 8 pm Eastern / 5 pm Pacific. This should make it easier for many of you to see him more regularly. Please check the News page and the Calendar page for more specifics.
This may be the last time you'll see my name here as Brent is going to look after the site himself from now on. It's been a pleasure helping any of you with problems over the past 7 years.
Cheers,
George
Member Services

Saturday, September 9, 2017
Hey everyone, here's Brent's Last Summer Webcam Show. It's from a few weeks ago in Calgary before we had to fear the horrible hurricanes in the Atlantic Ocean and the earth quake off Mexico's western coast. At the time, we were focused on the extensive forest fires in western Canada and southern California. Since these events are becoming more common and more severe, there's no way we can ignore the fact that the earth's climate is changing.
Brent's parents in the Turks & Caicos Islands fortunately escaped the most serious effects of Hurricane Irma yesterday, but obviously he's focusing his attention on them right now because the danger isn't totally past.
All the best,
George
Member Services

Friday, September 1, 2017
Doing it on Skype is something I like because I can actually talk with you (even if the comversation has to edited out because it's too one-sided). But it's a bit more personal because we can see each other and can "interact" with one another. If you're interested in trying it out, shoot me an email. The details are on the homepage. I hope you like this one. :-P
Cheers,
- Brent

Wednesday, August 23, 2017
Here's an edited version of a recent live webcam show for you. I call it "Back in the Closet" because, well, because I did it in this fantastic closet with a huge mirror which just had to be christened. Check out my latest work of "art"...
Cheers,
- Brent

Monday, August 7, 2017
Today's video is from a Skype show I did in early July by request in the bathroom/shower. So it's called "Shower Skyping". The fan had a bit of a butt fetish so you'll see a bit more of that side of me than usual. At the end I took a long shower that gave me a lot of energy back for what came later that evening. You have to imagine that, lol.
Cheers,
- Brent

Monday, July 31, 2017
Today's new video is from just before the main Toronto Pride event week in June. You'll notice Brent didn't have his new tattoos yet, he wanted the first webcam show with the first new tattoo up on the site first. I don't think you'll mind though. The video with the second new tattoo is still being edited along with some other videos.
Brent also wanted me to apologize for having to cancel yesterday's live webcam show, he was just too exhausted from a number of shoots he did during the past few days, right after flying back from Calgary.
All the best,
George
Member Services

Tuesday, July 18, 2017
Here's the video of the first webcam show I did in Calgary a couple of weeks ago. I talk quite a bit in this one about my new tattoo and the others I'm planning to get soon. Nothing too colourful, don't worry, but full of meaning for me. So take a look. Summer is beautiful here in Calgary on the hot dry prairie, not like the humid heat in Toronto. I really want to settle down somewhere in a Caribbean paradise - stay tuned.
And cum see me at my next webcam show this Sunday, July 23rd at 5 pm Pacific / 8 pm Eastern.
Cheers,
- Brent

Saturday, June 24, 2017
This weekend is the busiest of all during the Toronto's Pride Month events season. So I have a new Skype video for you. This was actually the first 1-on-1 Skype show I did after coming back from the Caribbean. I'm calling it Skyping during Pride Month because it was the first.
Watch out tomorrow for a Live Webcam Show with a Mystery Guest at 6 pm Eastern / 3 pm Pacific. And if you're in Toronto, I'll be at FLY 2.0 tonight...
Cheers,
- Brent

Wednesday, June 14, 2017
Skyping with France is my first 1-on-1 Skype show on the site that I did in Toronto. I really like doing these because they give me a chance to really talk with you rather than just text. This one is with a fan from France. It was fun, so there will be more of these. And remember, it's Pride month in Toronto, with parties and the big parade in a couple of weeks. If you want to know more, check out this site:http://www.pridetoronto.com.
Cheers,
- Brent

Saturday, June 3, 2017
First the Gym, then the Shower - my latest video from the gym in my condo building. It's a sort of apology for the webcam show that fell victim to my computer last week. We have the technical issues sorted out, so there should be more videos up soon. Also, Pride season is coming soon to Toronto, so if you happen to be here towards the end of the month and you see me and Steve out and about, please say "hi" to me. I'd love to meet you.
Cheers,
- Brent