A word of warning: There are a number of Facebook, Twitter, Tumblr and Skype accounts out there that are FAKE. Some of these apparently try to scam money out of visitors. If you are texting with someone claiming to be Brent who is asking for money, you can be sure you're dealing with a scammer. Please let us know about such attempts so that we can warn everyone. The correct links to Brent's accounts are on the Homepage of this site and on his Blog.

---

Wednesday, November 14, 2018
"Brent & Dimitri in the Games Room" is today's new video. My pal Dimitri and I shot this a couple of weeks ago just before I left to visit my parents in the Caribbean. I think you'll like it, lol. It's one of my rare bareback scenes. Please read the intro of the video when you get around to watching it. And please, also read the entry we've put at the bottom of the Support Page about PrEP and Truvada.
Be safe!
- Brent

Sunday, November 4, 2018
Brent is now back in the Caribbean visiting his parents. He's already shot a couple of videos there and we also have a few scenes here to be edited and put on the site soon, with Brandon Wilde and with Dimitri, as well as a few others. So keep a look-out. Today's new video is another Skype call that went missing when Brent had his technical problems during the summer. A couple of other scenes went astray as well. But they'll be up here soon. Today's video is entitled "Two Guys from Saskatchewan". Take a look!
Cheers,
George
Member Services

Tuesday, October 23, 2018
Today's new video - A Caribbean Skype Call with a Fan from France - is from earlier this year when I was visiting my parents in the Caribbean. You can guess from the title whom I was talking with before things heated up quite a bit and at the end demonstrated why I may have been having problems with my gear from time to time...
In a few days I'm heading back over there to visit my parents again till just after Christmas, glad to be getting away from the rainy weather here in Toronto for a bit...
Cheers,
- Brent

Thursday, October 11, 2018
So I'm happy to tell you that the video drought is over. Brent has sent me his collection of hard drives (from a couple of destroyed laptops) and USB flash drives to check out for webcams, skype videos and scenes he's missed sending me over the past few hectic months. I haven't finished checking everything out yet, but I've already discovered a few. So, today I have a first new video for you - A Caribbean Skype Conversation - that I'm sure you'll love. It's from his visit to his parents in the Caribbean a few months ago. Also, Brent is off to Montreal this weekend to shoot a couple of new scenes, so your extreme patience will be rewarded during the next few weeks.
Enjoy,
George
Member Services

Friday, September 28, 2018
While Brent is still busy re-organizing his life in Toronto, I'll be bringing various videos that you may have missed to your attention. Today's is James Justin visits Brent. You'll find it on Brent's Pages, page 13. Once again, we apologize for these delays.
Regards,
George
Member Services

Tuesday, September 11, 2018
Brent is back from Europe now and getting his life back together from the rather long trip. He's also looking for a new apartment right now. But hopefully there'll be a webcam show soon as well as some new videos that haven't been edited yet. In the meantime, I've discovered a missing photoshoot from a few years back - Brent & Tyler, which I've just uploaded to the Photosets area.
Hope you like it.
George
Member Services

Sunday, July 22, 2018
Today's new webcam video is also from a few months ago. In the Shower Again is not in HD that's why we haven't uploaded it earlier. We still hope to be able to recover the HD version soon and we'll post it as soon as possible. But Brent wanted to upload this version because he hasn't done a shower webcam lately and his travels during the past few months have caused a few delays getting some new videos edited and online.
Hopefully, we'll be able to sort everything out once he returns from Europe.
Please be patient.
George
Member Services

Saturday, June 23, 2018
We're celebrating the end of Toronto's Pride Month this weekend (you know I'm back in Toronto, don't you?) and in the next couple of weeks I'll be shooting a few videos before I head over to Europe, so I wanted to put up Home (Almost) Alone Part II before I get too busy. This short video is from my visit to my family in the Caribbean and I shot it just before I came back to Canada. Enjoy!
Cheers,
- Brent

Wednesday, June 13, 2018
I was Getting Ready To Travel a few days after I did this webcam show last December. We've been holding it and a few other videos back because they don't exist in HD and we couldn't recover them from the hard drive of one of my computers that was badly damaged before Christmas. But, it's a good video just the same and I think you'll love it, at least because of the cumshot. I won't say any more. Just check it out, lol.
Cheers,
- Brent

Sunday, June 3, 2018
Home (Almost) Alone Part I is a video Brent shot a couple of days before flying back to Calgary. He had to be a bit qieter than usual because he was not alone in his parents' house, but, as you'll see, things ended up quite spectacularly. There will be a Part II which he shot on another day...
Cheers,
George
Member Services

Thursday, May 24, 2018
Here you go, the first new video shot by Brent and Brandon Wilde in the Caribbean. It's called Location Scouting because that's what they were supposed to be doing for the other videos to come. But you know them by now, one track minds! On the other hand, what would you have done if you had been there, eh?
Cheers,
George
Member Services

Tuesday, May 15, 2018
While Brent and Brandon are out on their Caribbean island shooting a few scenes with Steve's help, here's another Skype video from a while ago - "On the Quick" - with a typical Brent cumshot. Hopefully the next video will be one of the new Brent & Brandon ones out in the sun among palm trees and blue-green ocean water. Stay tuned.
Cheers,
George
Member Services

Saturday, May 12, 2018
We're really sorry for today's webcam show cancellation. Steve brought Brent a new computer from the U.S. but inadvertently bought a Google Chromebook which is totally incompatible with Windows software at this point and won't run the webcam software which is Windows only. Brandon Wilde brought his laptop with him, of course, but unfortunately it's an Apple product. Brent is still looking for a work-around but that won't happen today. Please don't be too mad at him! Check out Brent & Brandon's apology video on the homepage!
Regards,
George
Member Services

Monday, May 7, 2018
"Evening Skype" is just what it appears to be. Brent was a bit pressed for time because of another engagement a little later that night, but everything worked out just fine.
There should be some hot, brand new videos on the site soon. Brandon Wilde arrives in the Turks & Caicos Islands in a few days and everything is planned to start off with a live webcam show with him and Brent together on Saturday, May 12th at 1pm Eastern / 10am Pacific. Steve is also expected to arrive next week (with a new computer for Brent) and that should be a joyful reunion for the three of them. Stay tuned...
Cheers,
George
Member Services

Sunday, April 29, 2018
"Skyping in the Heat" is a video from the middle of last summer when Brent was trying to stop smoking (again!). The prairies get as hot in summer as they get cold in the winter. Good for buffalo and cattle, but not really for human beings. (OK, I apologize for that to those of you who say you love it there). Brent is still waiting for his computer to be fixed. Thankfully, his soon to be arriving guests will bring their laptops with them. In the meantime, check this video out...
All the best,
George
Member Services

Sunday, April 22, 2018
This is the video I shot using my cell phone and selfie-stick a few minutes after I damaged my laptop just before my first webcam show from the Turks & Caicos Islands. I still haven't managed to get my laptop repaired here on our little island, but I'm hoping to find a solution soon so I can have a live webcam show from here as quickly as possible.
I'm expecting a friend of mine to fly here in a couple of weeks; we'll be shooting a few videos together for the website. It's a surprise, so I won't reveal his name just yet, lol.
Cheers,
- Brent

Wednesday, April 11, 2018
The evening before I flew to the Turks & Caicos Islands, I visited the public gym I usually go to in Calgary to work out. I used my cell phone to shoot a little video in the shower afterwards. It had to be quiet and short, but still... Check it out!
Cheers,
- Brent

Sunday, April 8, 2018
Unfortunately, I've had to cancel today's show because just a minute before the show was to start I jumped up on my bed and my almost new laptop fell to the floor and the screen was damaged! GRRRR!!!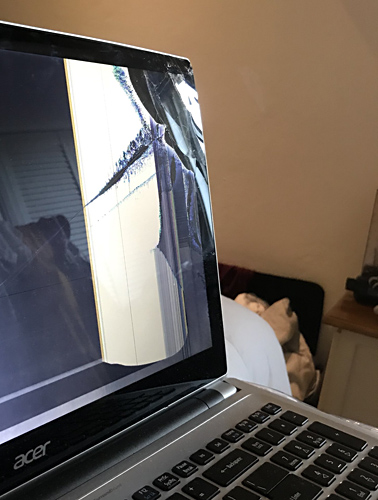 So sorry, everyone. I hope I can get it fixed quickly here on the Island.
- Brent

Thursday, April 5, 2018
In this edited skype video I partnered with a fan that has a humongous dick. Unfortunately, I can't share it with you, lol. But you can see the effect it had on me... in "Skyping with (Big) Dick".
I just arrived in the Turks & Caicos Islands yesterday, and later on today I hope to be testing the quality of the internet here now (post-hurricanes). So, keep your fingers crossed that everything works out for Sunday's live webcam show.
Cheers,
- Brent

Thursday, March 29, 2018
"Things that can happen in the dark...". I discovered this video and some others that aren't on the site yet when I dug through my hard drives when I had my computer fixed. This one wasn't originally meant for the site, so the lighting isn't very good (hence the title). But it's HOT, a reminder of a hot night with a friend. Check it out.
I'm heading for the Turks and Caicos Islands next week, so I'm hoping to do a live webcam show from there very soon.
Happy Easter,
- Brent

Tuesday, February 27, 2018
"We Need To Meet One Day" is what I said to the hottie who was my partner online in today's Skype show video. That's why I like these shows, because you can see your "partner", if he's open to participate on his device or computer. I'm about to get a new computer, so I hope to do more live webcams and shoot more videos soon. Please be patient a while longer.
Cheers,
- Brent

Friday, February 16, 2018
So this time I used the bathroom to do a Skype show with a fan from Washington, DC. Fortunately, mine is big enough to let me do that reasonably comfortably what with all the hard, awkward surfaces you have to deal with. But, it wasn't my first time doing sexual things in a bathroom and I bet it isn't your first time either... ;-)
Cheers,
- Brent

Thursday, February 8, 2018
It was freezing cold here when I did my Skyping with T-Man. Fortunately it was only cold outside, but it brought some friends into the condo at the same time, so I had to be a bit quieter than usual. But it didn't stop me from enjoying myself. :-P
Cheers,
- Brent

Sunday, January 28, 2018
Me and my Fleshjack is today's new video, a Skype show with a fan from Washington, DC, one of my favourite American cities (even now, haha). We were able to chat a little before getting down to the more exciting stuff. This time I used my Fleshjack (my own, as you'll see, but don't read anything into that, lol). It made things extra hot though.
Cheers,
- Brent

Monday, January 15, 2018
Today's new video is an edited version of a Skype show I did with a fan from Nebraska. It was freezing cold outside in both places, but we managed to heat things up between ourselves. I haven't been around much in the last little while. I apologize for that but I'm feeling much better and hope I can get my computer working again as well. See you soon...
Cheers,
- Brent

Thursday, January 4, 2018
Got a new edited webcam video for you to start 2018 off right. It's called A Post-Thanksgiving Webcam because that's when it took place, lol. It's one of several videos that are still being edited and will be added to the website soon. And I hope to be able to start having live webcam shows again soon, just waiting for some repairs to my computer. (I really shouldn't be allowed near computers or cell phones, that what I keep getting told anyway, ha ha.)
Happy New Year!
- Brent